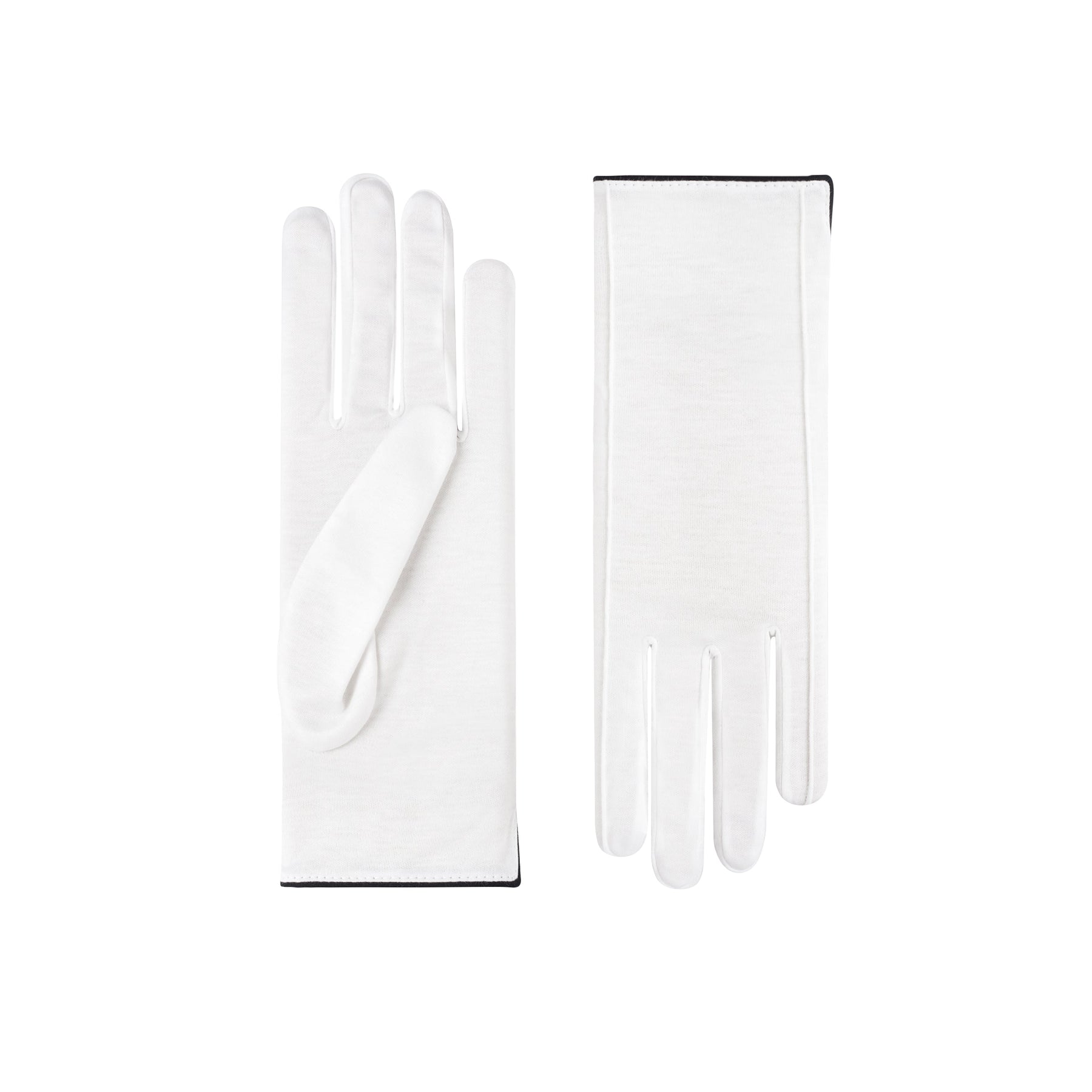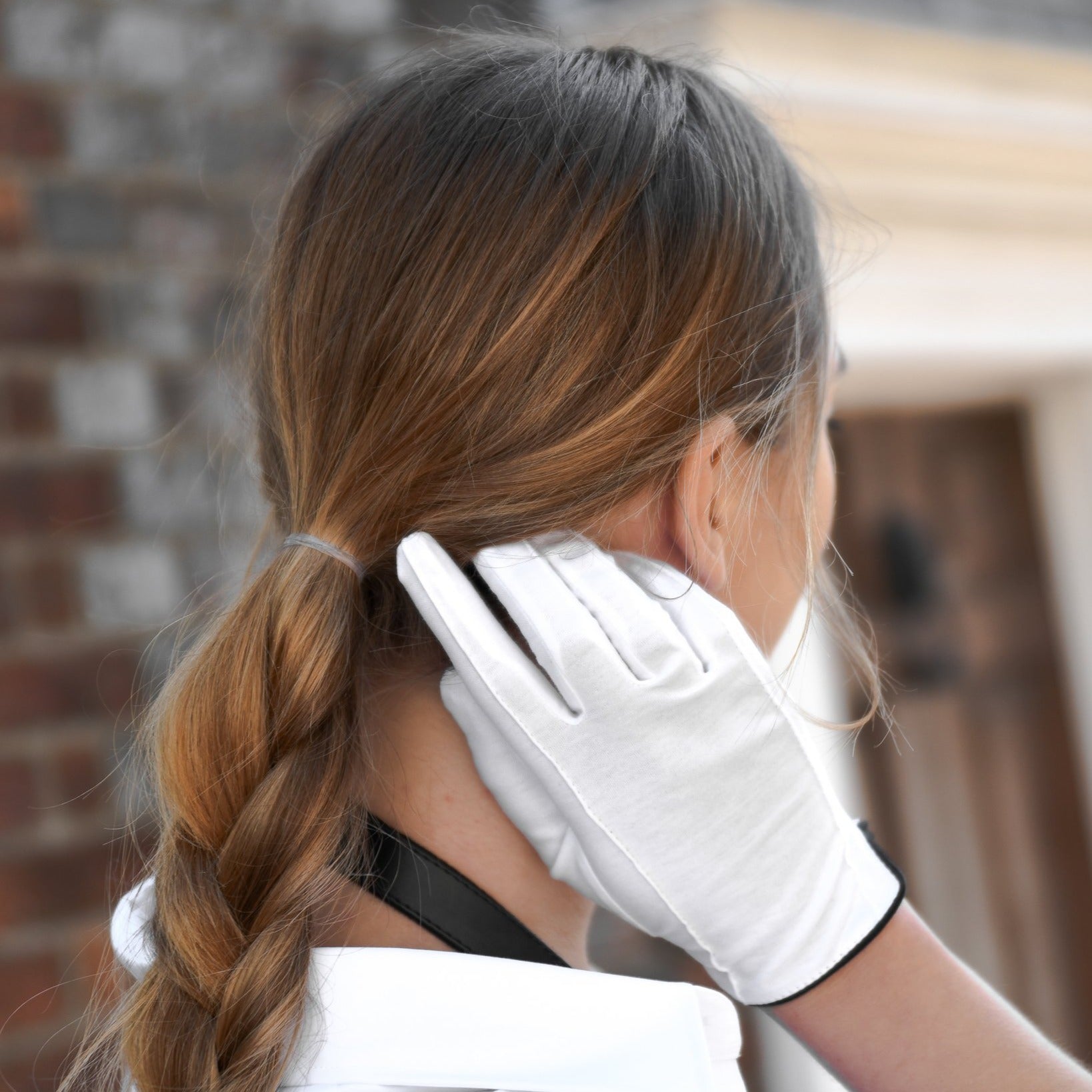 Hera | Cotton Day Glove
United States
- order within
13 hours 15 minutes
for delivery as soon as
Tuesday, September 26
. See checkout for full delivery options.

Handmade in our Sussex atelier

60 day returns

Express shipping
Hera is our minimalist style, which comes in either in black with a white welt, or white with a black welt. It has a classic vent and two points down each side.
Made From
Pure Supima Cotton grown in the San Joaquin Valley, California, knitted into pure Cotton Jersey in Fehraltorf, Switzerland. This cotton is rated UPF 50, offering the highest level of protection against the sun's ultraviolet rays.
Dimensions
Wrist Length, 1½ BL. This glove measures 1½ inches from where the thumb seam meets the wrist to the hem at the top of the glove.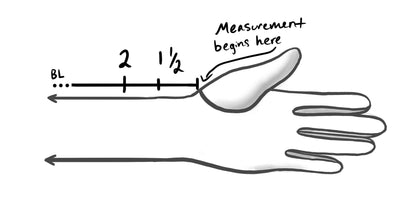 We make our gloves in hand sizes from 6 to 8½. To find your glove size, pass a tape measure around the widest part of your hand - usually over your knuckles, excluding the thumb. The result, in inches,
is your glove size. If you are between two sizes, round down to the lower. 
Here is how you convert from centimetres to inches:
| | | |
| --- | --- | --- |
| Glove size | Inches | Centimetres |
| 6 | 6 | 15.2 |
| 6½ | 6½ | 16.5 |
| 7 | 7 | 17.8 |
| 7½ | 7½ | 19 |
| 8 | 8 | 20.3 |
| 8½ | 8½ | 21.6 |
How do I guess someone's glove size?
If you are buying gloves for someone and don't know their glove size (and don't want to ruin the surprise), their height can indicate their most likely glove size. Please note, this is statistically most likely but won't be correct 100% of the time.
Applies to women only
| | |
| --- | --- |
| Height | Most likely glove size |
| Under 5'1" | 6½ |
| 5'1" to 5'6" | 7 |
| 5'7" to 5'8" | 7½ |
| 5'9" to 5'11" | 8 |
| Above 6' | 8½ |
How fast will my gloves arrive?
Most of our gloves are made 'to order' but we work swiftly. Our 'time to make' gloves ranges from roughly one to three days, depending on our backlog. If your order is time critical, we offer a 'rush' priority service - you can select this at checkout. Please see checkout options for an accurate total (glovemaking + shipping) delivery time.
Can I return/exchange?
Yes - there is a 60 day window.
Will they fit?
Yes - they will fit like a glove ought to fit. Please take care with the sizing info and, if you have any doubts or concerns, do not hesitate to get in touch. We are here to help and we really want your gloves to fit perfectly.
I'm buying gloves for someone, how can I guess their glove size?
You can make a guess at someone's glove size if you know how tall they are. See our guide here.
One glove or two?
Some people do ask this question! You will receive a pair of gloves.
Not sure about fabric and style - can I speak to a real person?
Of course! Contact us via phone, email, WhatsApp or Instagram during UK business hours.  And, of course, via our new video consultation service.
Can I have a personal message included?
Yes - we send a handwritten note with all orders. Let us know if we should write something special.
What gloves will work best with my dress?
Send us a photo and we will get back to you. We also offer video link style consultations. You can book a slot here. We can send fabric swatches to make your choice of gloves easier.
Can I order a selection and send some back?
Yes, you can.
Can I order a bespoke length?
Yes. This may make the purchase non refundable.
Can I order a bespoke colour?
Yes, we work with a very good dyeing house.
Can I wear my engagement ring over my gloves?
You can - gloves made from Tulle or Silk are fine enough for rings - but it is traditional for engagement and wedding rings to be worn next to the skin.
Where are the gloves made?
All our fabric gloves are made right here in our atelier in Sussex, England. Our leather gloves are made by our partners in Naples, Italy.
Do you have a shop?
No - but you are welcome to visit us in Sussex. Be sure to call first. We are about 90 minutes by car from London. Alternatively, if you are visiting the UK and short of time, we can usually deliver to your hotel/UK address 'next day'.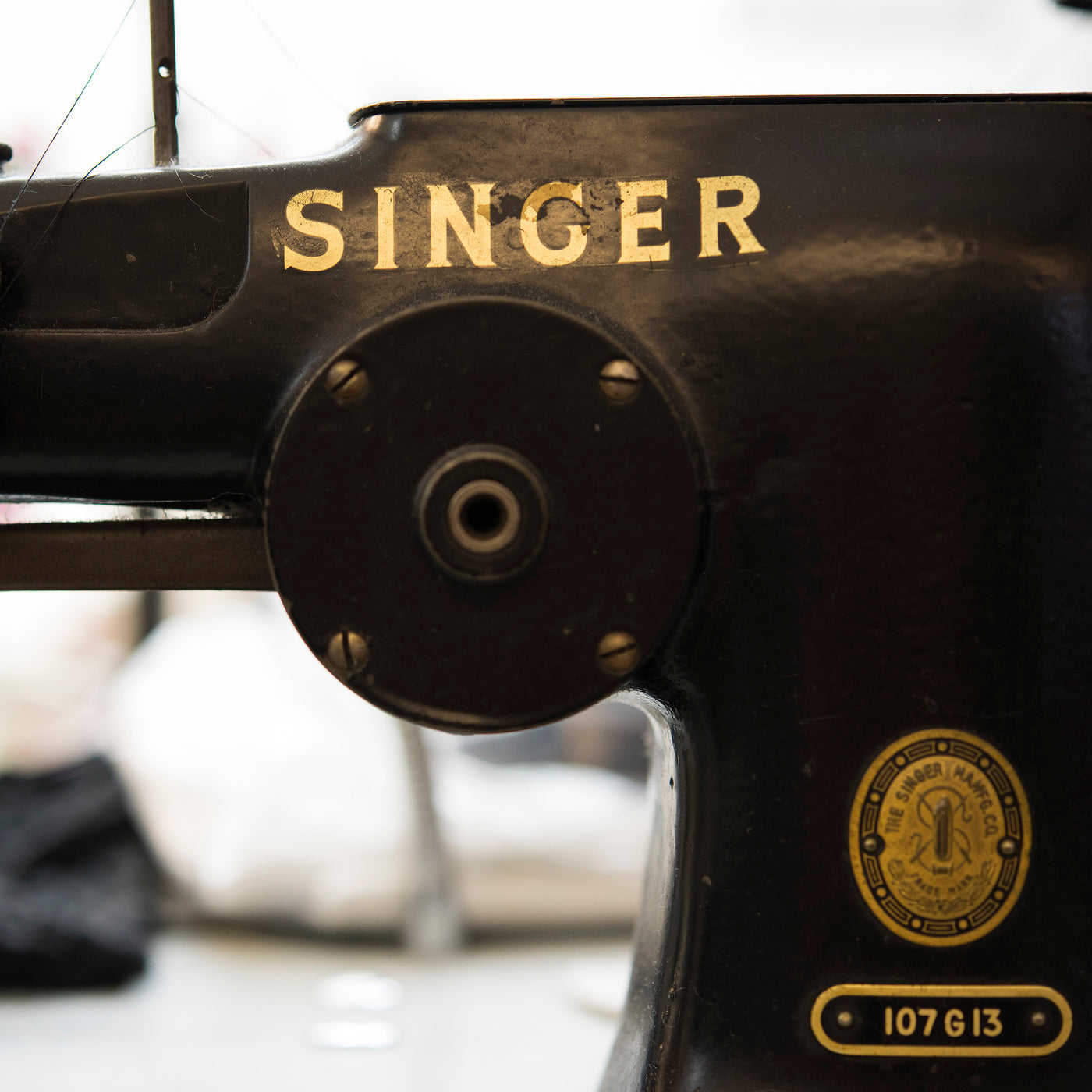 Our glovemaking
The hub of our glovemaking operation is a small, flint walled building that was built some 150 years ago to house dairy cows. All around us are pastures. A mile to the south, the green hills of the South Downs separate us from the salt seas of the English Channel.
It takes a lot to make a good pair of gloves. Great fabrics, selected with great care from mills large and small, skill and people with a passion for making things just right.
Almost everything we make is made to order. So that the person who is making your gloves knows exactly what you want in terms of glove size, style and dimensions.  They will also know your name and you will know theirs because, when they've finished your gloves and they're completely happy with them, they will sign the tag to say so.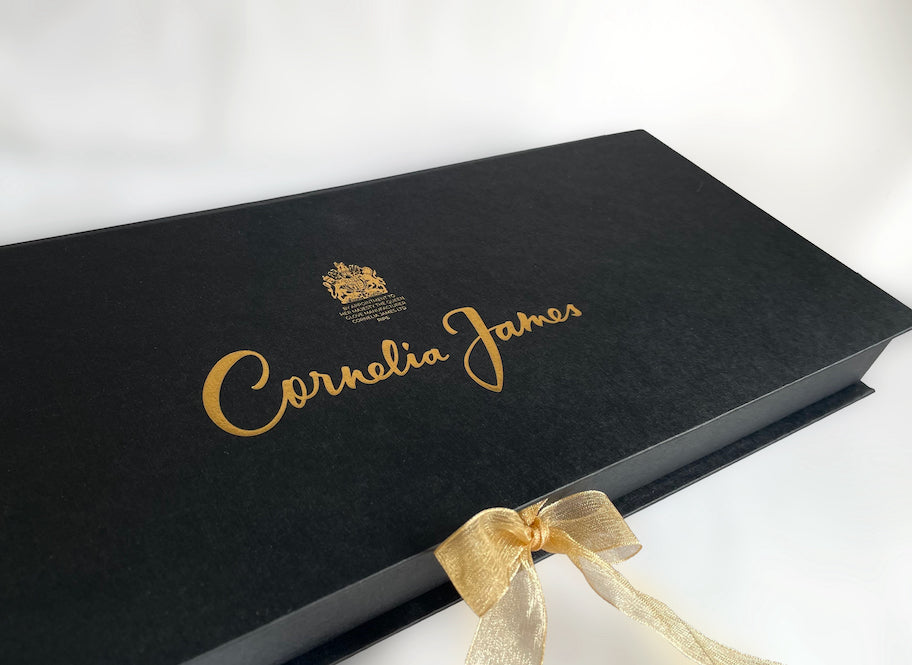 Our
Presentation box
Our box, like our gloves, is built to last. For us, it's about the product, not the packaging, but when we designed our box we made sure it was beautiful and timeless.
Virtual Personal Shopping
Our virtual appointments offer a hassle-free way to shop our collections, wherever you are around the world. From navigating the right glove for a specific event, to finding a perfect match for the big day, our dedicated team are on hand to help with the following:
Styling and product edits
Sizing, measuring and fit advice
Gift suggestions
Your Time is Precious
We're here to work around your schedule. With our simple booking process, you select the time and day that works best for you. Virtual consultations are available Monday to Friday, 9:00-16:00 BST.
Tailored to You
Just like our gloves, each appointment is bespoke. You'll be asked to share any specific requests or queries when booking. This helps us pre-select suitable products, ensuring you get the most out of your 30 minute consultation.
It's complimentary, always.
It's not only the quality of our product that sets us apart, but our approach. We don't believe in charging our customers for advice. As advocators of slow fashion, we endeavour to guide you in making the right decision. Our gloves transcend seasons, so take your time to consider your purchase. We're just happy to offer some friendly advice along the way.