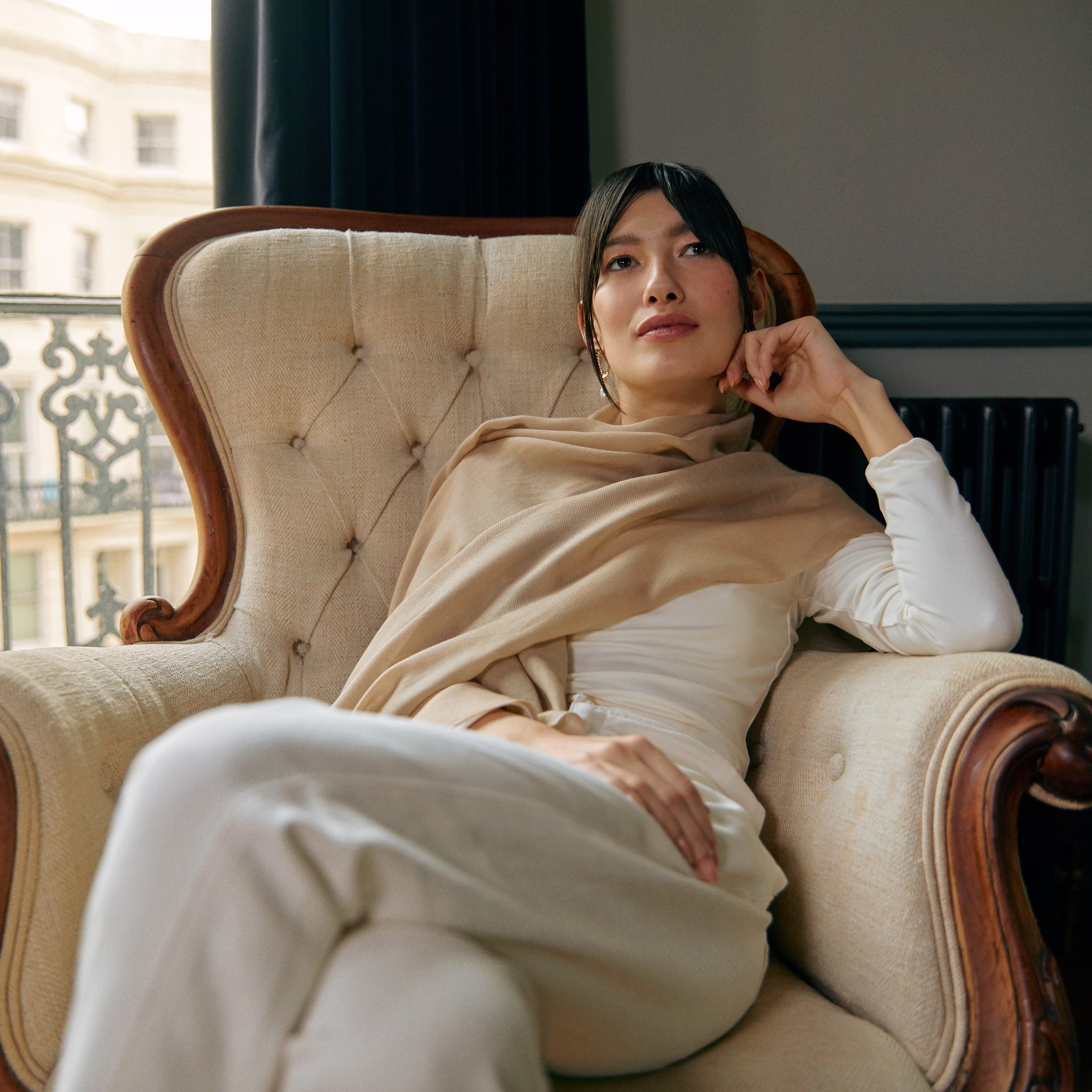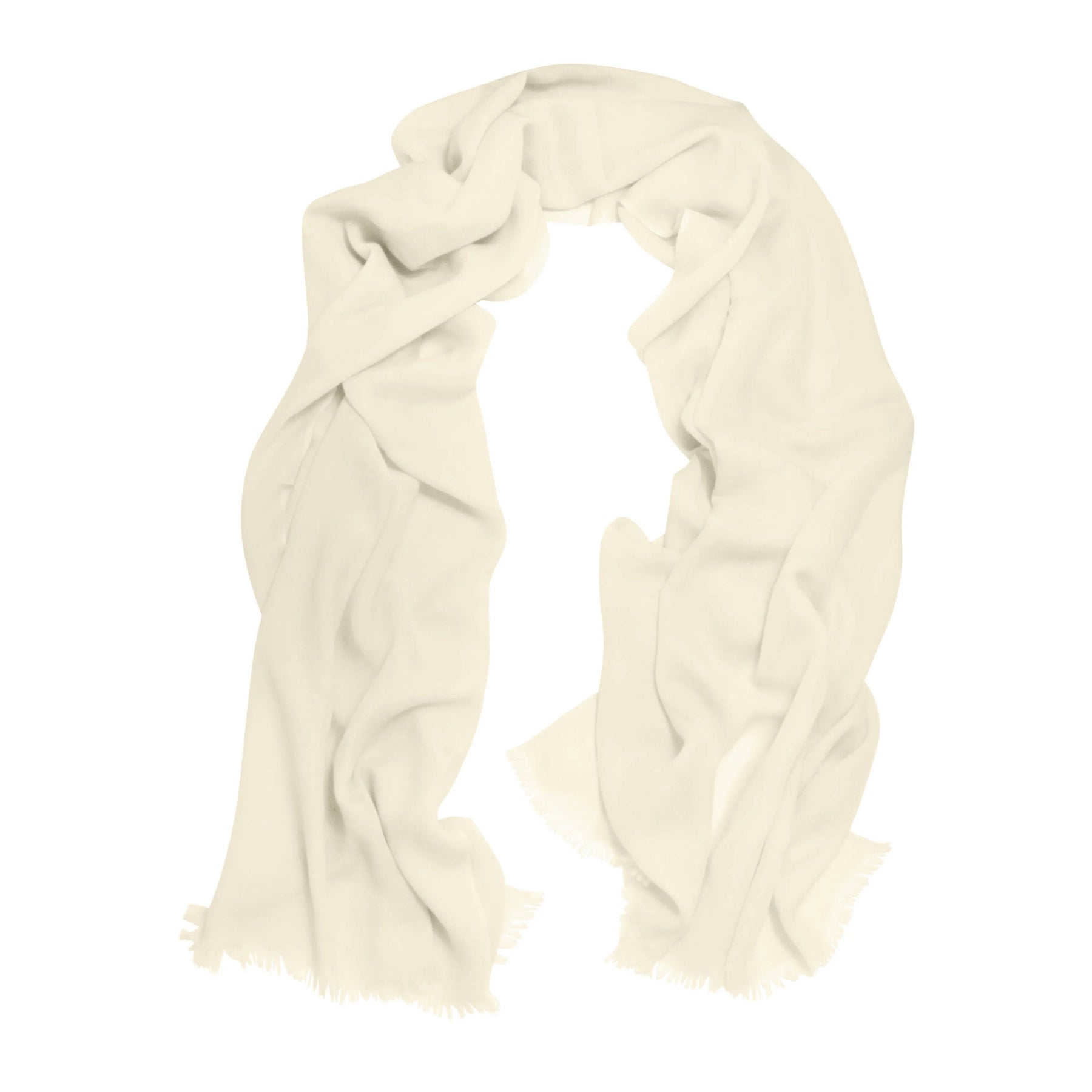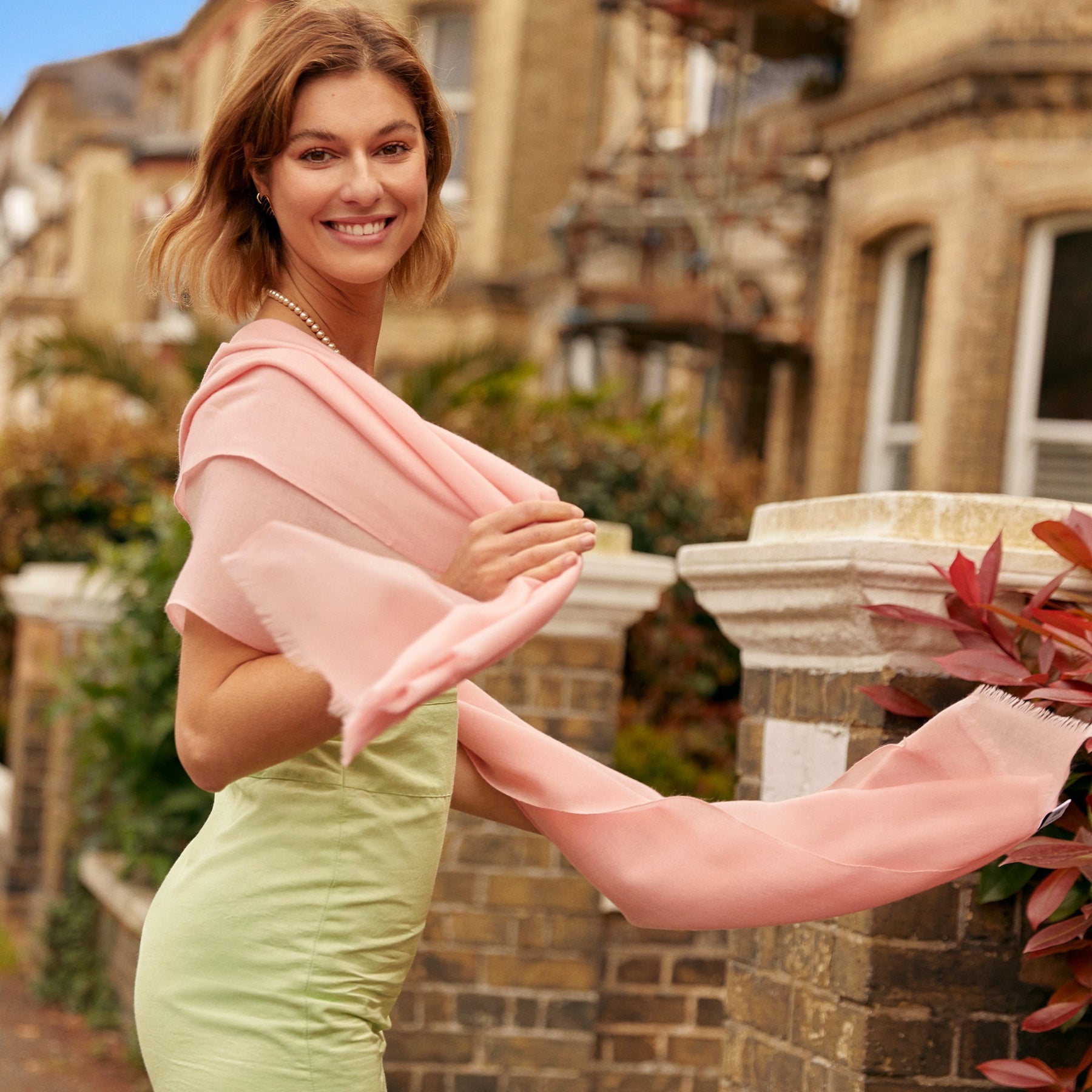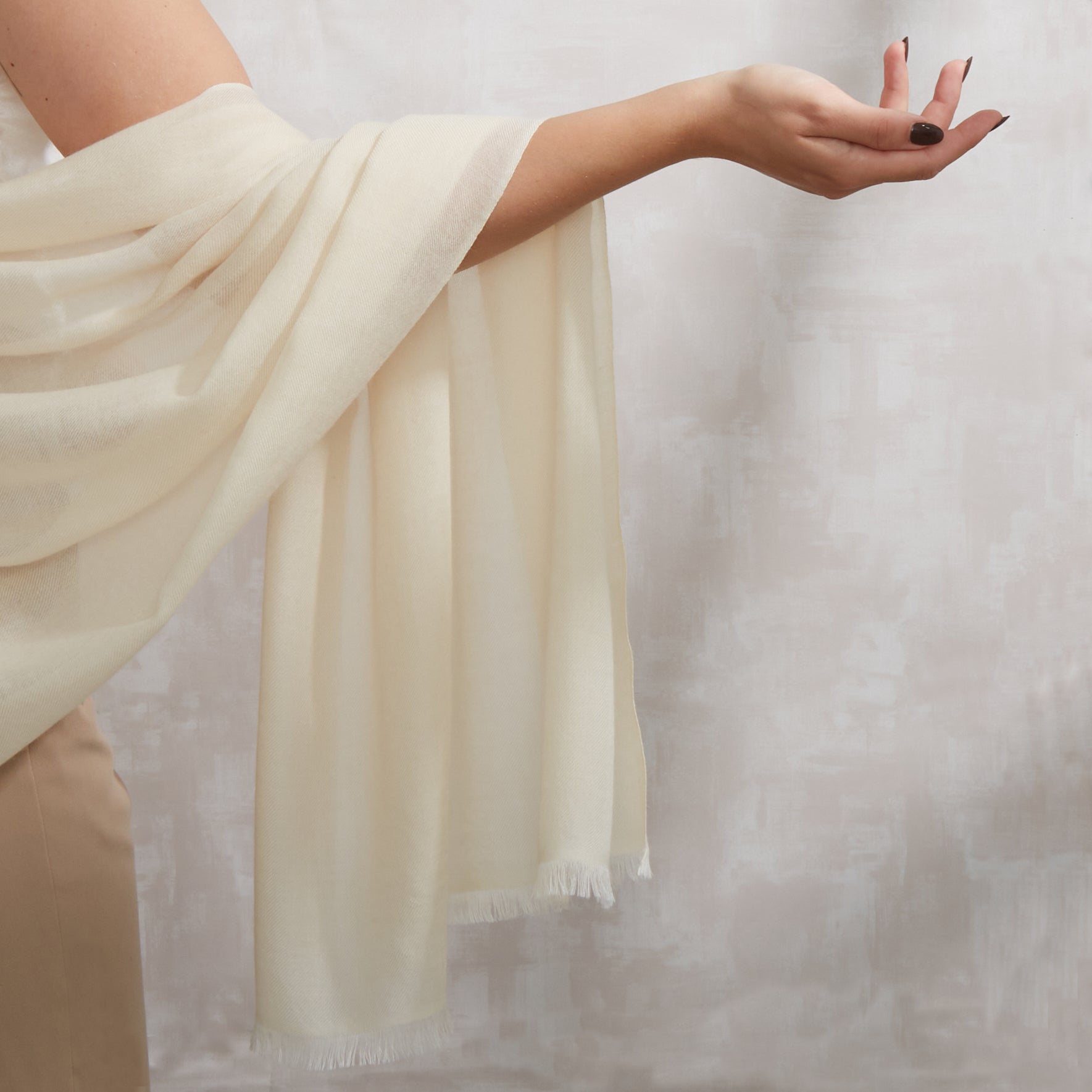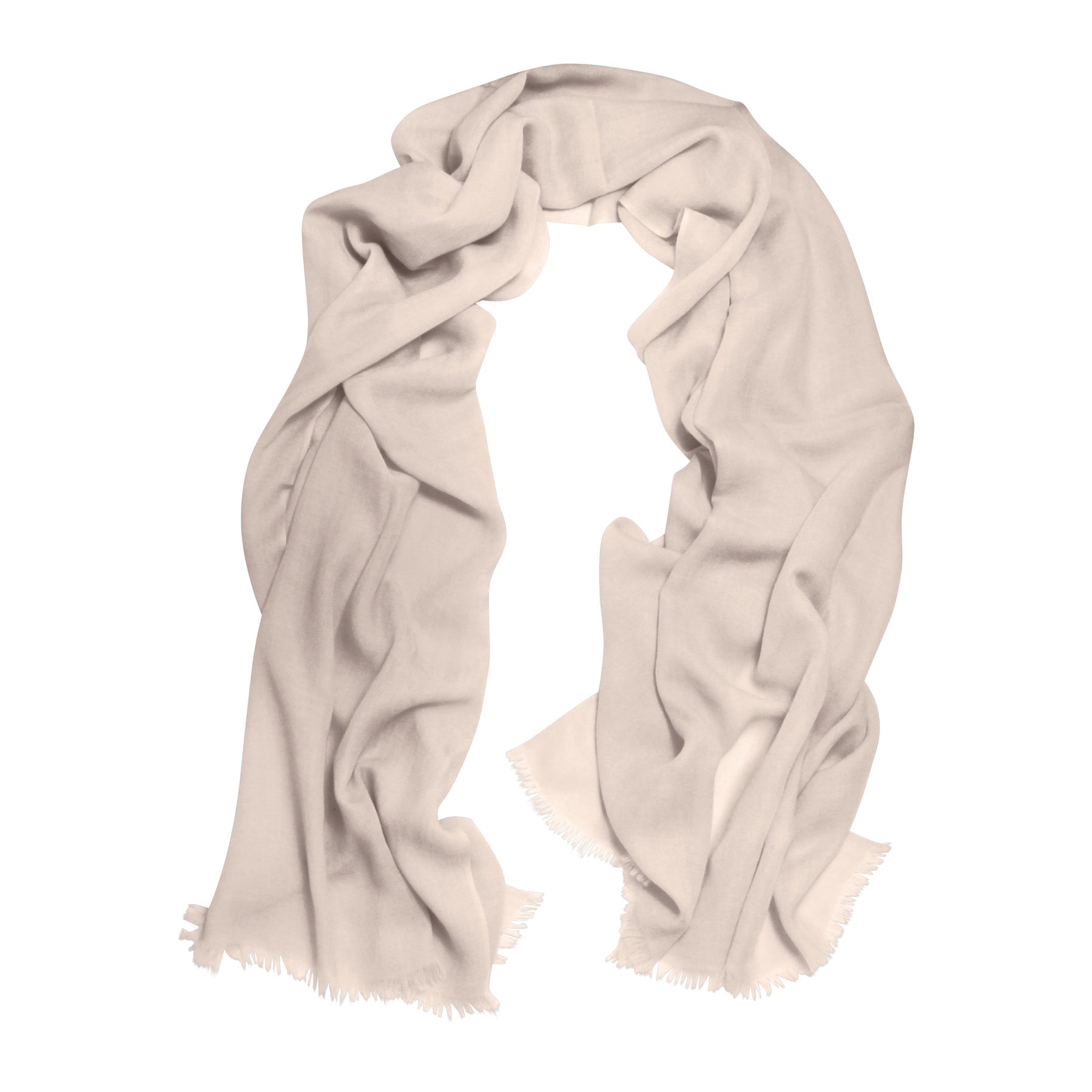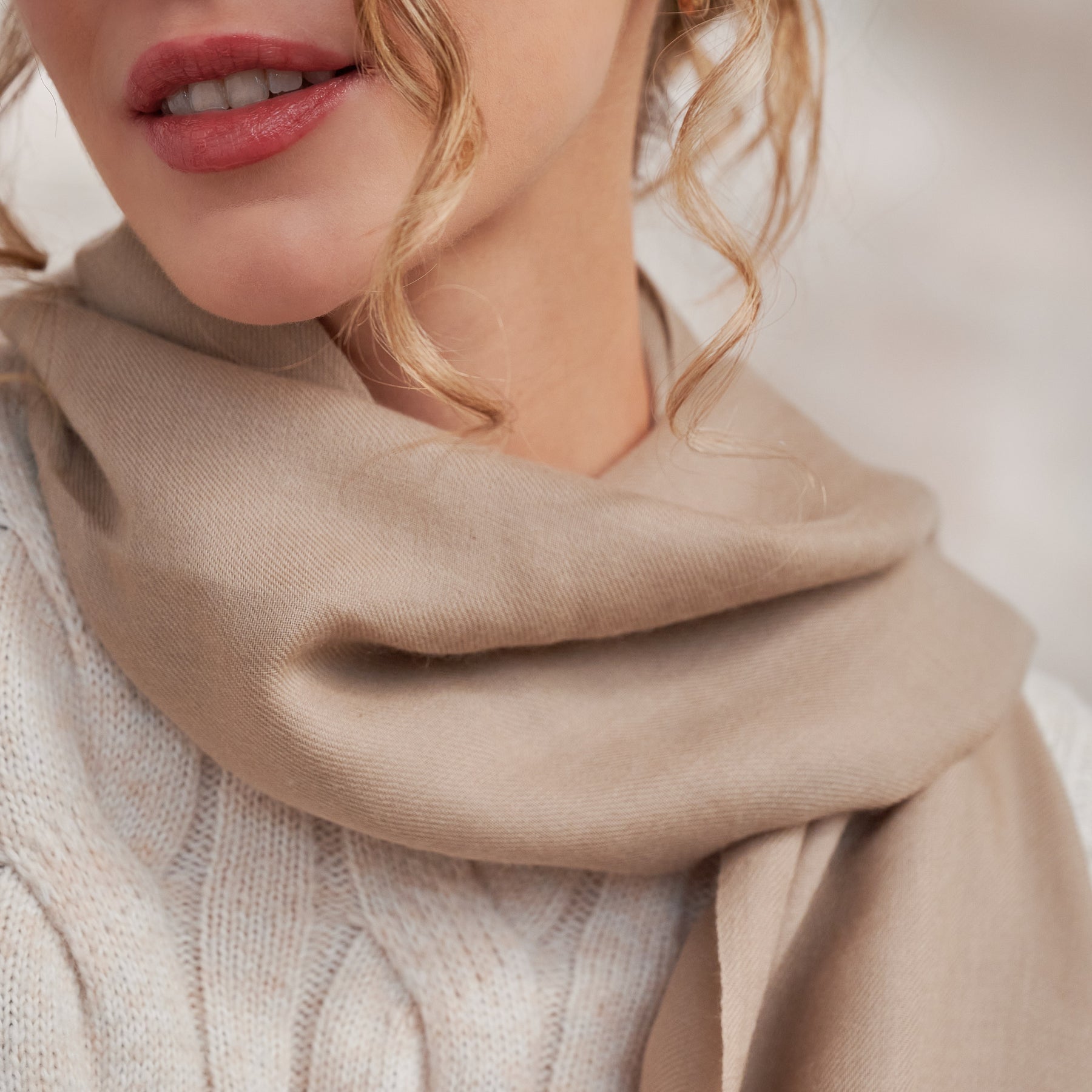 Cressida | Pure Cashmere Pashmina

Handmade in Mustang, Nepal

60 day returns

Express shipping
United States
- order within
13 hours 32 minutes
for delivery as soon as
Wednesday, December 06
. See checkout for full delivery options.
Simply the best, fine enough to pass through a wedding ring. Pure, feather light, warm and glamorous cashmere - a true classic which will repay your investment time after time after time.
Made From
Pure cashmere, combed from cashmere goats grazing at 4500 metres in the Mustang district of the Himalayas. The wool is woven in Bhaktpur, Nepal, into a yarn that is 15 microns thick.

Dimensions
200 x 70cm // 79 x 27.5 inches
Whether it's a cashmere scarf for those cooler Summer evenings, or whether it's your favourite cashmere jumper, cashmere is one of those fabrics that we all just can't seem to get enough of.
We at Cornelia James, especially, cannot get enough. Both our cashmere gloves and our cashmere scarves start with the best raw material around. For our gloves, our cashmere yarn comes from Todd & Duncan who have been spinning and dyeing cashmere in the Highlands of Scotland since 1867. The yarn then goes to a knitters in the Border country to be made up and finally arrives with us in Sussex 'on the roll'.
Our pashminas, on the other hand, are woven by hand in Nepal from pashmina cashmere. 'Pashmina' is the traditional name for the very finest grade of cashmere wool. The cashmere comes only from the underbelly of the Capra Hircus goat, who graze the remote hills of the Himalayas, and the fabric is often referred to as the 'diamond fabric' or the 'soft gold of high Asia'.
The more our cashmere pashminas are worn, the softer and more comfortable they become and that's why we love them. Light enough to be a summer shawl, warm enough to be a winter scarf and yet so fine that the true pashmina can be threaded through a wedding ring.
But no matter how fine or how loved your scarf may be, there comes that dreaded moment in any cashmere love affair when one realises that it's time that your favourite item had a dip in the tub.
It's important to stress that dry cleaning is the preferred method of cleaning your pashmina. Although we'll explain how your cashmere can be cleaned by hand, it's best to only do this once in a while and only if you feel completely confident doing so! Your pashmina is delicate and needs to be treated with the upmost love and respect.
In the event that there's no way to get to the dry-cleaners, we've compiled a few tips about how to care for your cashmere in the event of an emergenc….
How to Care for your Cashmere
Back to Basics
The golden rule, of course, is never place your cashmere in the washing machine. The fibres of the pashmina cashmere are too fine to be handled by any sort of machine. It's back to basics with these babies and hand-washing is the way forward in order for your products to maintain that 'just bought' look. Washing machines are far too harsh on cashmere and might cause it to start looking 'fluffy'.
Be Delicate
Your cashmere is strong but she's also delicate. Make sure to only use luke warm/cold water when washing. We would suggest cleaning out a basin and filling with water or finding a separate wash bowl to ensure that the washing bowl is clean. With most Cashmere products we would say it's always best to turn them inside out- of course, this will work for our gloves, but not for our scarves!
Get Soap Wise
In terms of what to wash with, you'll need to use the most gentle products around. Think of your cashmere as your baby and then you'll be on the right track. A very mild, un-perfumed soap is best. Do not use fabric softener or any cleaning products that contain bleach. Products such as Laundress cashmere soap work well but baby shampoo is the cheaper alternative and works just the same.
Wait till the soap is completely dissolved in the water and then give your pashmina a gentle wash- no brisk rubbing or scrubbing!
Rolling
Never EVER wring or squeeze your cashmere products because you'll risk them losing their shape, which isn't what we want! Lay your product flat on a clean dry, towel and either leave to dry or roll it in a towel like a burrito, squeezing out as much water as you can. Then it's best to lay it on another clean dry towel upon a flat surface until the excess water has dried. Avoid laying the cashmere near a heater or in the sun when it has been washed/gets wet as it can cause the cashmere to discolour.
Once dry, you may iron your product with a warm iron but we would advise putting either a piece of tissue paper or cloth between the pashmina and the iron.
It might sound all too simple but these golden rules will help save your favourite cashmere pashmina so that it lasts a lifetime.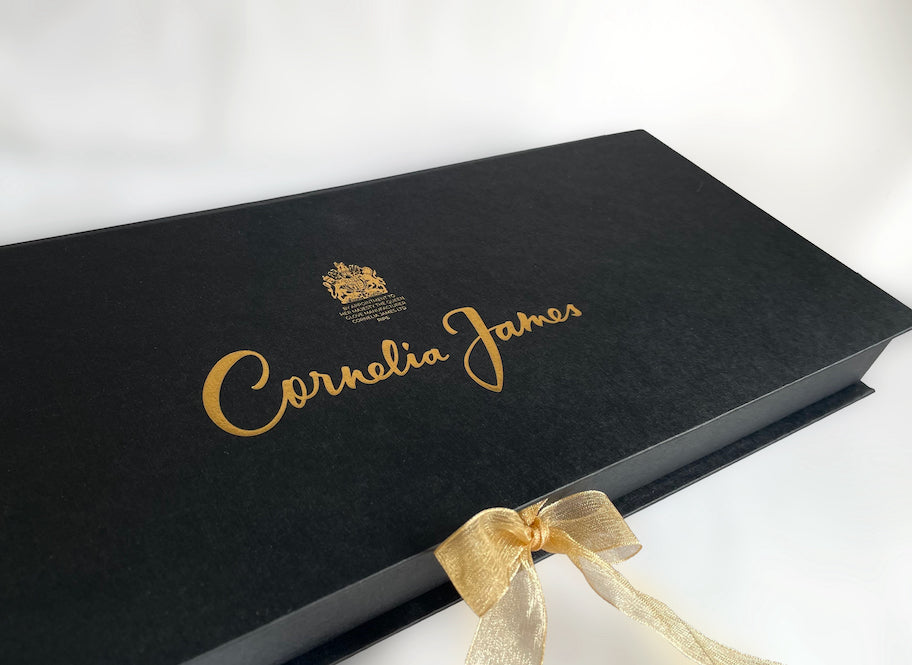 Our
Presentation box
Our box, like our gloves, is built to last. For us, it's about the product, not the packaging, but when we designed our box we made sure it was beautiful and timeless.