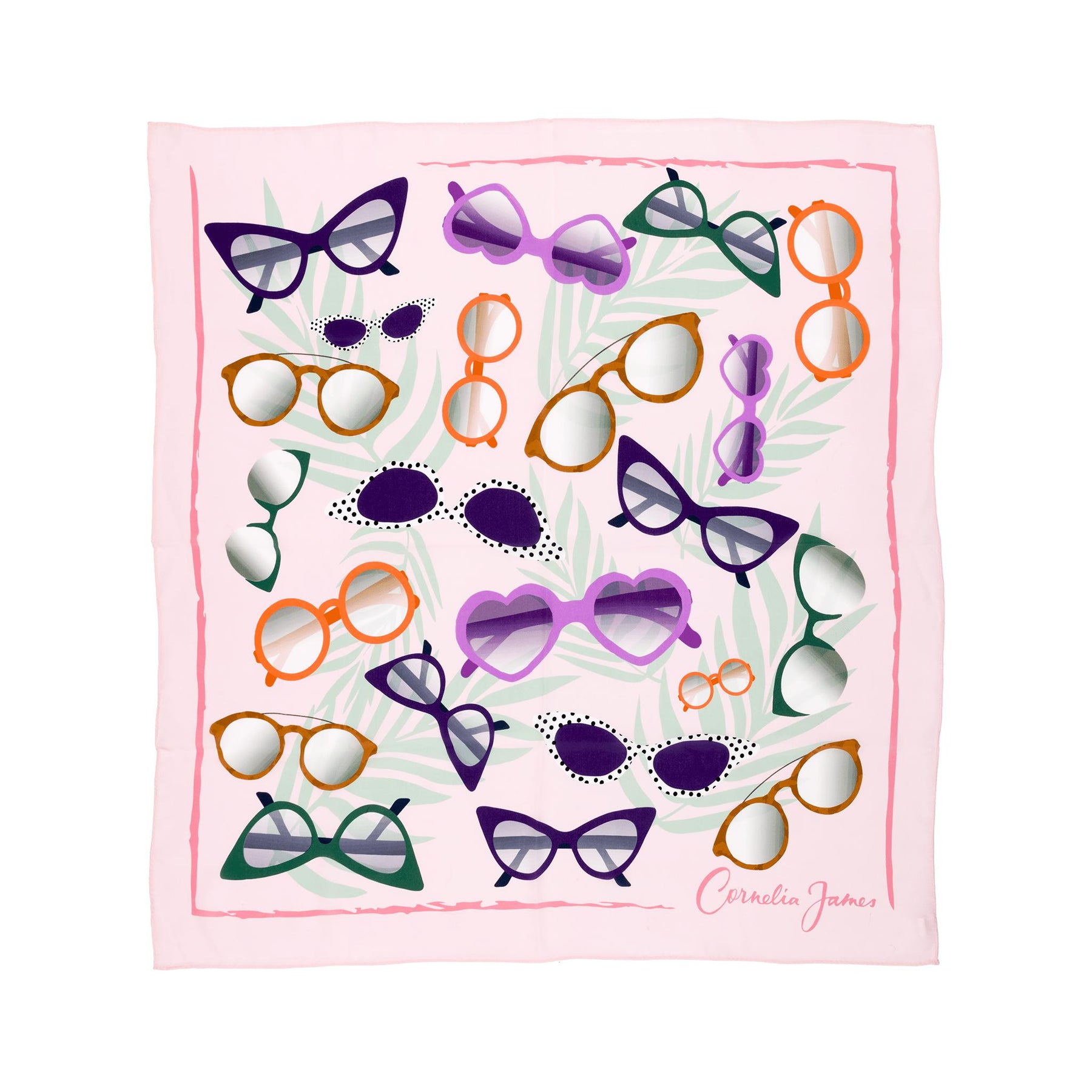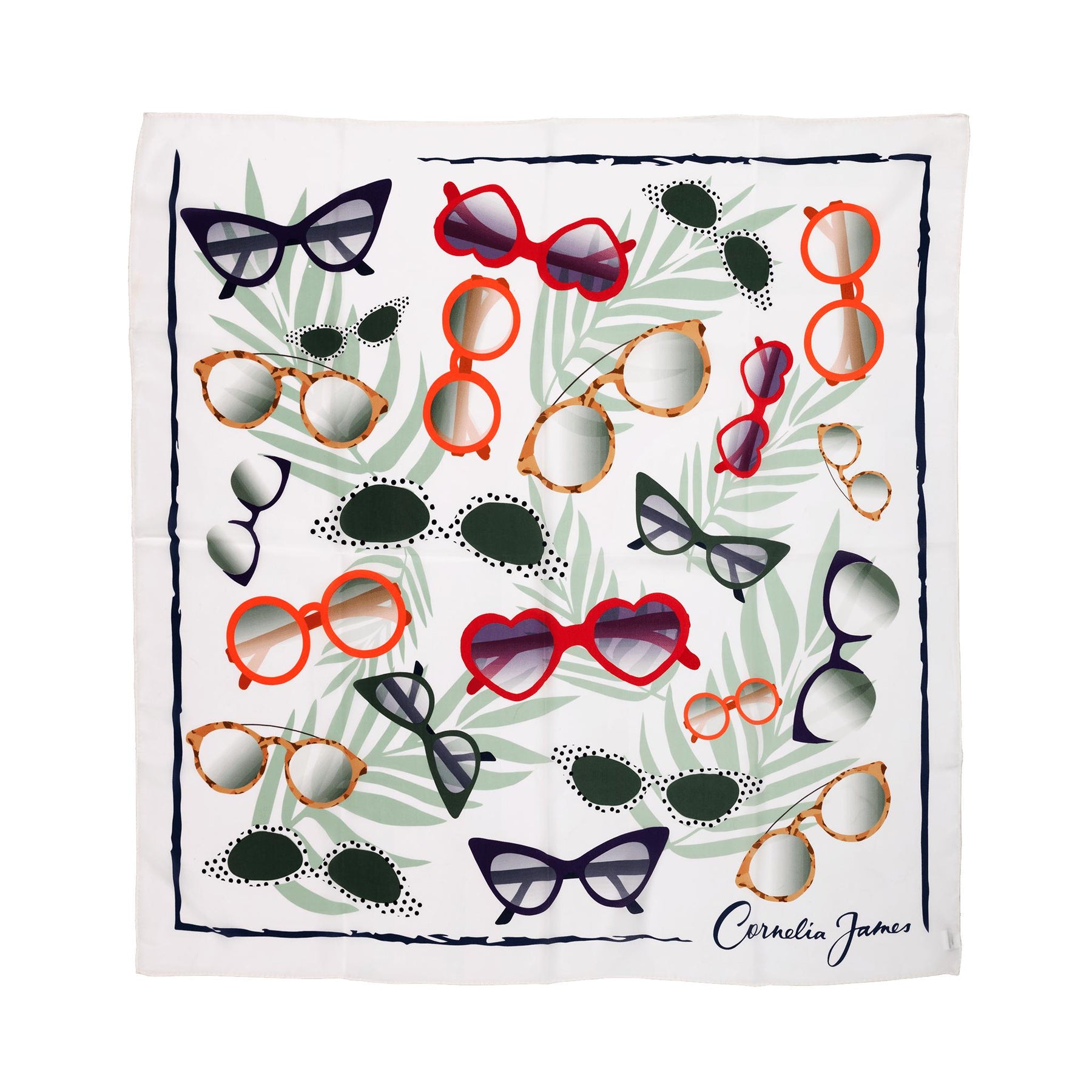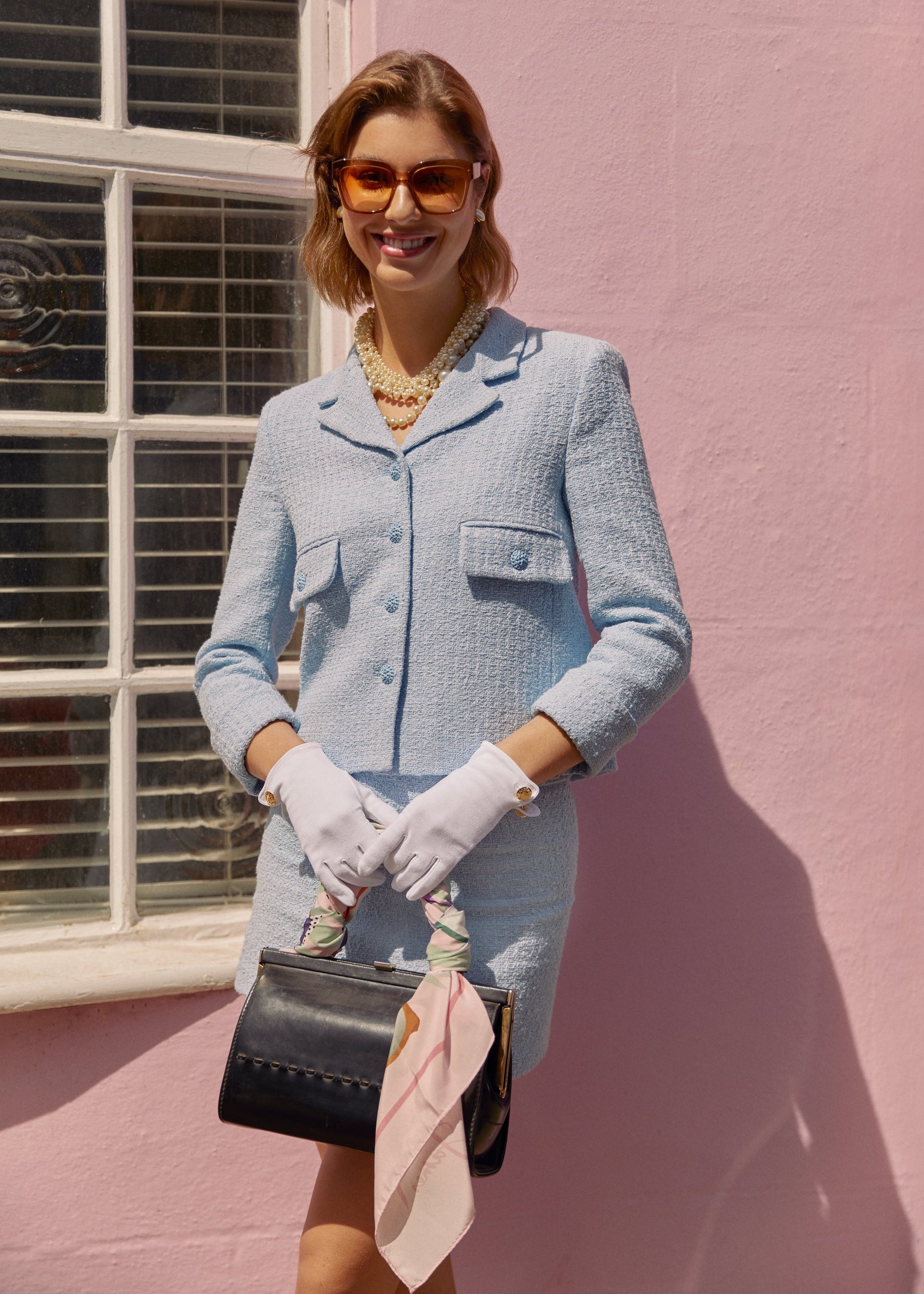 Tabitha | Silk Scarf
United States
- order within
12 hours 46 minutes
for delivery as soon as
Wednesday, December 06
. See checkout for full delivery options.
There is nothing quite so perfect as pure silk crêpe de Chine. With rolled edges and 14 momme silk crêpe de Chine, our Tabitha 90x90cm square scarf is a celebration of summer. A charming design of sunglasses in a choice of pink or white ground.
Made From
14 momme Silk Crêpe de Chine
Dimensions
35 x 35 inches
90 x 90 cm
The look of the season: the classic silk scarf. But 'classic' never means dull - the key to the silk scarf is in its endless versatility. It can take on many guises, whatever your mood: a hair statement for 'bad hair days', a retro take on the Grace Kelly look, a great way to lift your basic t-shirt. We've got the looks covered. 
THE PONYTAIL
The ponytail style is a simple but pretty way to transform your everyday hair look. We suggest using an oblong scarf for this look, such as our Hebe silk scarf.
Once you have your ponytail, fold your scarf in half lengthways, and then fold it again. Gather the scarf in the middle and knot around your hair. 
THE HAIR BOW 
This style is great for keeping your hair up and out of the way. Your boyfriend wouldn't like it, but it's not always about your boyfriend. This is for those days for when it's just you, a baggy jumper and Deliveroo.
Taking an oblong scarf - we like a pop of colour with our Aurora scarf.
 - fold it in half lengthways once. Pass the scarf round the bottom of the back of your head and bring both ends up together to meet. Pull the ends together to tie in a large bow. We like our bow tied slightly on the side for a more nonchalant look, so adjust to your mood. 
THE HAIRBAND 
A feminine twist on the classic headband, this reminds us of Audrey Hepburn at the barre. Fold your scarf (like a Freya) lengthways, and then fold again, so it becomes a band. Take the length of the scarf and centre it over the top of your head so that both sides are equal. Pass it over the top of your head and tie both ends in a large bow under your ear, on the side. 
THE GRACE KELLY 
You don't have to be Grace Kelly to look this good - just fire up the Mustang Convertible. Take a square scarf - match your sunglasses to our Tabitha  scarf.
 - put it over the head so that it frames your face. Make sure both ends are equal lengths. Cross the two lengths in front under the chin, take it round to the back and tie a knot to secure. Pairs well with our India net glove.
THE FRENCH KNOT 
It's a knot. It's French. And it's elegant. 
With a square scarf (we've styled this look with a Hebe scarf), fold into a triangle. Take the point of the triangle and fold it four times towards the widest edge. Put it over your shoulder and tie a knot about two-thirds of the way down.
THE COWGIRL KNOT 
Yee-ha! (as we say in England). Easy riding style. 
Make a triangle out of a square scarf (like our Freya), pass the two ends around the neck. Bring the ends back around to the front of your neck and tie a knot in the centre. 
THE CLASSIC LOOP
The most effortless way to wear a scarf. Less is more. Pass the scarf (Aurora)
 around your neck with the triangle at the front, loop both ends around the back of your neck. 
ON THE HANDBAG 
Tying a scarf around your handbag is an easy way to add a splash of colour - particularly with our Tabitha silk scarf. 
A TWIST ON A BELT
This is a creative way to lift your everyday t-shirt and jeans look. Simply fold a square scarf into a triangle and then fold again three times into a band. Thread through your belt loops and knot on the side. We've used our Aurora silk scarf.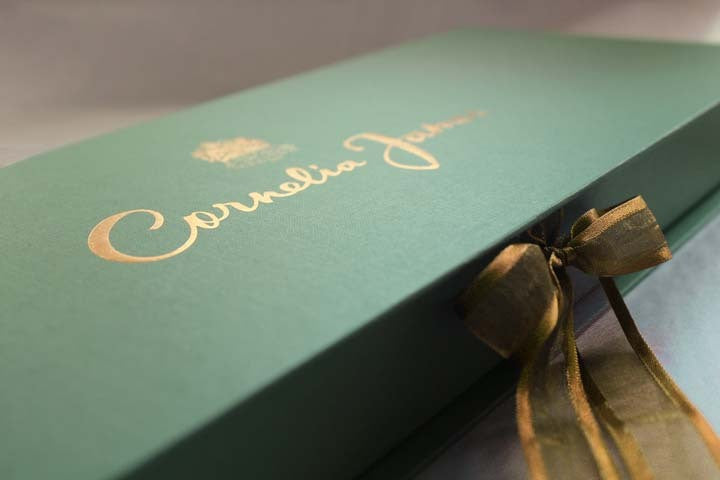 Our
Presentation box
Our box, like our gloves, is built to last. For us, it's about the product, not the packaging, but when we designed our box we made sure it was beautiful and we chose the colour, 'light cockpit green' to symbolise a style that endures.